The dog days of summer are now here, and that means the last few weeks of outdoor activities and fun are now upon us. Unfortunately, this also marks the point during the year where Minnesota reaches it's highest annual average temperature, which hovers somewhere around the mid-80's. If you're like me, and considering the sticky humid air that comes with those higher temps, the last thing you really feel like enjoying is any sort of long lasting physical exercise outside. It's hot, it's humid, it's not that fun… But that doesn't mean there's a complete lack of activities to help you stay fit for the rest of the summer. Here's five easy fitness ideas to help you stay cool!
Early Morning Walks
The coolest part of every day is the time right before the sun rises. If you're an early to bed and early to rise type, pop in some ear buds take a 30 minute to a hour walk around your neighborhood or place of interest. It's clinically shown that even just 30 minutes of walking can improve heart health and combined with a healthy diet, help shave calories in the process.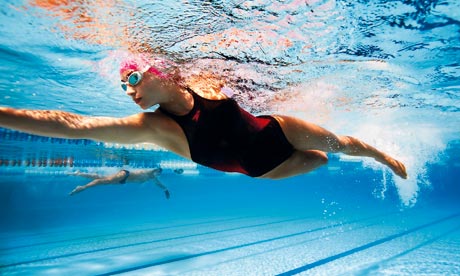 Swimming laps or across the lake
Everyone's first solution to beat the heat is to jump in the water, and you can stay fit and improve your swimming skills in the process! Swimming is one of the few activities that you can do that involves muscle stimulation throughout your entire body, and not only helps improve muscle tone, but also improves your aerobic endurance.
Yoga and/or Pilates 
You can avoid the outdoors altogether and stay fit by participating in a local Yoga or Pilates course. Both disciplines are meant to stimulate growth and control in the mind and body through a series of relaxing excercises. Attending weekly courses can help improve flexibility, core strength, and your overall state of mind and focus.
Spinning
For those not into yoga or pilates, you can always give spinning a shot! Spinning is an exercise that involves using a bicycle like contraption that varies in resistance with an instructor who coaches and varies the tempo. Spinning is a great way to burn fat and build leg and core strength, and local and most chain gyms hold spinning classes that are indoors and out of the heat.
Water Skiing or Wakeboarding
It may be a bit more expensive or harder to find depending on who you know, but there's no better way to have fun and still get a workout in the process. Like swimming, skiing and wake boarding utilize almost every muscle in the body both to keep balance, keep in tow, and stay afloat.
Remember that in all activities, you should remember to stay safe and stay hydrated. All the fun is lost when one is laid up with an injury. With that in mind, get out there and enjoy the rest of your summer!
– Brad Masson